TAG | John Gray
"Humanism is a secular religion thrown together from decaying scraps of Christian myth."
John Gray, Straw Dogs (2002)
Writing in the  American Conservative, here's Gilbert Sewall on the Oxford classicist, E.R. Dodds. Read the whole thing, really, but here is Sewall discussing Dodds' Pagans and Christians in an Age of Anxiety (1965):
In 380, Theodosius I declared Christianity the official religion of the Empire, proscribing all other religions. Temples were closed, property confiscated, pagan holidays prohibited, and Olympic games ended. Freedom of religion vanished.
Olympic Games ended – not all bad then.
Sewall:
This obnoxious self-confidence made Christians many enemies among ordinary Romans. "Like all creeds which claim the total allegiance of the individual—like communism, for example, in our own day—early Christianity was a powerful divisive force," Dodds said, using italics to make his point

To educated pagans, blind faith rendered Christianity contemptible. But what had been no more than an administrative nuisance or psychological curiosity in the early Empire became an actual menace to its stability and security: a state within the state, a secret society that disrupted social cohesion…

Why did the Christians win the Roman culture wars? First, the anything-goes ecumenism of late antiquity led to "too many cults, too many mysteries, too many philosophies of life to choose from: you could pile one religious insurance on another yet not feel safe," Dodds explained. "Christianity made a clean sweep." The Church cared for widows and orphans, the old, unemployed, and disabled. Most important, the Church created a community that gave self-respect and meaning to lives, provided human warmth, and offered hope.

Since Dodds wrote, the Western world's educated and powerful have for the most part abandoned Christianity. Multimedia blur fiction and fact, making fantasies appear real and true. In such a world, what rubrics will provide a moral anchor and semblance of community? What voices will give lives meaning and direction?
As I've mentioned before, the need for "meaning" remains elusive to me, but it is  undeniable that that is something most people appear to want—something, like religion itself, that appears to be hardwired within our species, presumably because it fulfilled and, indeed, fulfills, an evolutionary purpose.
The 'New Atheists' who want to get rid of religion are on a hiding to nothing. There will always be religion. The only question is the form or forms it will take.
Sewall:
Washington-based journalist Andrew Sullivan has likened today's campus activists to a religious sect, one that finds redemption through confession of white guilt and privilege, conversion, adoption of esoteric language, and adherence to a strict moral system. "Liberalism and empiricism have parted company," warns political philosopher John Gray, an academic leftist and no friend of religion, in the Times Literary Supplement.
I have posted something on some of what Sullivan has been saying here and on Gray too (most recently) here.
In this context, it is worth noting this comment by Gray ('academic leftist' is not, incidentally, quite the right label: Where he stands is more complex than that) :
[Mill's] assertion that human beings would prefer intellectual freedom over contented conformity was at odds with his empiricist philosophy. Essentially unfalsifiable, it was a matter of faith.
But conformity is not comfortable for all, and part of the comfort it does give lies in bestowing a power to enforce that conformity on others, power that is  pleasurable in itself, but also as a demonstration of a superior morality.
Sewall:
A rising quasi-religion propagates articles of holy faith through academic and corporate workshops, training sessions, and safe-zone certifications. In deconstructing canonical works, defaming ancient heroes, denouncing thought crimes, destroying icons and symbols, and closing down opposing viewpoints as hateful, it displays humorless fanaticism….

[T]he emerging intersectional priesthood has no intention of ceding secular power or accommodating adversaries. As an elect mindful of the responsibility to crush lies, convinced of its superior moral vision, it demands greater temporal power to redeem and punish recalcitrants.

As Dodds showed, belief systems that seem absurd to non-believers can and do create state-enforced thought monopolies. Once institutionalized, they can remain in power for long periods of time. Those who refuse to embrace sacred mandates and hierarchies are deplorable. They are mad, stupid, or evil, not merely stubborn or freethinking. Heresy contaminates. Nonconformists deserve legal reprisals, stigma, and ruin. To expunge the demonic threat, autos da fé, psychiatric hospitals, labor camps, and confiscations—many possible tools—are available to enforce divinely inspired righteousness.
Good times.
Andrew Sullivan · Christianity · E.R. Dodds · Intersectionality · John Gray · Paganism · Political Religions · religion · Rome · Theodosius I
Comments off · Posted by Andrew Stuttaford in politics
Cross-posted on the Corner.
I posted something yesterday on Pope Francis' disconcerting (there are other adjectives) response to the murder of Father Hamel in Normandy earlier this week, specifically with reference to this comment:
"I only want to clarify, when I speak of war, I am really speaking of war … a war of interests, for money, resources. … I am not speaking of a war of religions, religions don't want war. The others want war."
This, I argued, was wrong-headed for any number of reasons, not least the way that it effectively tried to downplay the wider religious significance of Father Hamel's killing. That's a topic that Damian Thompson has now addressed in The Spectator. Mr. Thompson, I should add, is not only an associate editor of The Spectator, but also the editorial director of the Catholic Herald:
Father Hamel was killed while re-enacting the death of Jesus Christ on the cross. That is the essence of the Catholic Mass, which — unlike Protestant commemorations of the Last Supper — is presented to the faithful as the same sacrifice offered by Jesus. To kill a priest who is saying Mass is therefore an act of unique desecration. You do not need to be a believer to grasp this point. Enemies of the church have understood it since the beginning: an early pope, St Sixtus, was beheaded during Mass in 258 ad by agents of the Emperor Valerian. Islamists, who reach back to the Dark Ages for so many of their actions, have rediscovered this crime. Their intense (and very successful) campaign to cleanse the Middle East of Christians reached its symbolic peak on 31 October 2010, when Father Thaer Abdal was shot dead at the altar of the Syrian Catholic church of Our Lady of Salvation in Baghdad. Fifty-seven other innocent people, many of them worshippers, died with him.

The gunmen who broke into the church during Sunday Mass were heard to scream: 'All of you are infidels… we will go to paradise if we kill you and you will go to hell.' They were members of an Iraqi faction of al-Qaeda that had declared war on churches, 'dirty dens of idolatry', and in particular 'the hallucinating tyrant of the Vatican'. The motives of Islamic terrorists are sometimes hard to disentangle from their personal biographies and factional infighting. But sometimes they are obvious, and the only thing obscuring them is the politically correct preciousness of the liberal western media and commentariat. Many Islamic fundamentalists, including those who don't participate directly in violence, loathe Christianity with a poisonous passion reminiscent of medieval Christian anti-Semitism. Its practice must be suppressed — either without violence, as in Saudi Arabia, or amid carefully staged scenes of bloodshed, as in Baghdad or Rouen.

In the 21st-century Middle East, Christianity has been suppressed on an astonishing scale….
Thompson goes on to ask whether the murder of Father Hamel will "awake Christendom from its torpor." As evidence that it will not, he cites comments by Austen Ivereigh, a  biographer of Pope Francis and a  former spokesman for the English Catholic Church. Mr. Ivereigh is quoted as  referring to the 'pointless banality of the Rouen murder' and as urging us not to glorify it by 'ascribing religious motives'.
Well, to me at any rate, the "religious motives" were  all too clear.
In a long, closely-argued piece for ABC, Mr. Ivereigh has now discussed the Pope's response to Father's Hamel's killing, and specifically the description of the attack as "absurd" act of violence.
Absurd?
Ivereigh:
Absurd violence? The words seemed almost trite. There was no mention of martyrdom, or even of Father Hamel. The Pope's attention was neither on the victim nor the perpetrator, but on the nature of the act; and rather than ascribing to it any religious or ideological motive, the Pope reduced it merely to an outpouring of hate. For Francis, it was not an attack, assault or a slaying – or any of the other terms we journalists love to use to dramatise – but a meaningless, pointless act; mere hatred; an absurdity…
Ivereigh duly tweeted the Pope's words and duly received a disapproving response:
I was drawing attention, I said [to one critic], to the Pope's focus on the act rather than the motives of the killers, which are at this stage – I was writing just hours after the event – frankly obscure. But based on previous ISIS-inspired acts, not least in Nice, the attackers were likely to be vulnerable, depressive losers lured into violence by radicals on the internet; to call them religious, I warned, was to buy into the Da'esh narrative, that this was a war of Islam on the West and Christianity.
This will not do. The murderers' motives were never, frankly, that obscure, although elements in their mix might have been. Perhaps it's easier for me, someone without any religious faith, to accept than it would be for Mr. Ivereigh, but people can be drawn to religion for any number of reasons, some noble, some far less so. Some of these people may be talented, secure and successful. Others may be "vulnerable, depressive, losers", but they have all arrived at a religious destination, even if they may well have very different understandings of what that destination is.
Yes, there are good reasons to resist giving the current conflict with elements in Islam an incendiary label, and those reasons are strong enough to justify a noble lie or two, but lying to ourselves is not only unwise, but also dangerous.
Ivereigh cites the Archbishop of Marseilles:
"We are no longer in the realm of ideas," he said – no small thing for a Frenchman to declare – but confronted with a very new kind of war, unknown until now.
Yes and no: Part of the effort to defeat ISIS must involve trying to understand its ideas.  Ivereigh argues" that violence has no part in God's plan; it is no-thing; it is absurd." Well, that may be true of his God, but, God is in the eye of the beholder, and He can take forms that are not always so benign as Ivereigh believes.
Ivereigh adds:
[ISIS] is a wholly modernistic creation, a vehicle of power, the "technocratic paradigm" of domination and exploitation, applied to an ancient faith. ISIS militants are engineers, IT experts, lawyers and literalists; they are utterly Western, utterly modern, utterly unreligious.
I can't agree. In a post last year on the topic of whether ISIS is nihilist (it's not) I noted:
ISIS, like most millenarian movements, believes in a cleansing fire (and, in its case, in setting it), and ideologically it explicitly looks back (to the teachings attributed to Mohammed)… but to think that this also involves an embrace of the technologically pre-modern is evidently a mistake.
And in another post on the same subject, I cited the British philosopher John Gray:
[F]ar from believing in nothing, Isis militants are possessed by faith. Though some reports suggest that the militants may have been fuelled by euphoria-inducing drugs, their attacks are not random acts of terror. They are moves in a methodical strategy of savagery that serves an apocalyptic myth. Isis is an explicitly eschatological movement, infused with fantasies of cataclysmic end-time battles and a universal caliphate.
Indeed it is. It's not the first of its kind. It won't be the last. And it will not be wished away.
France · Islamic fundamentalism · Jacques Hamel · John Gray · Pope Francis · Religious Left · terrorism
Here's John Gray in The New Statesman,  reviewing God Is Watching You: How the Fear of God Makes Us Human by Dominic Johnson:
An evolutionary biologist trained at Oxford who also holds a doctorate in political science, Johnson believes that the need to find a more-than-natural meaning in natural events is universal – "a ubiquitous phenomenon of human nature" – and performs a vital role in maintaining order in society. Extending far beyond cultures shaped by monotheism, it "spans cultures across the globe and every historical period, from indigenous tribal societies . . . to modern world religions – and includes atheists, too".

Reward and punishment may not emanate from a single omnipotent deity, as imagined in Western societies. Justice may be dispensed by a vast unseen army of gods, angels, demons and ghosts, or else by an impersonal cosmic process that rewards good deeds and punishes wrongdoing, as in the Hindu and Buddhist conception of karma. But some kind of moral order beyond any human agency seems to be demanded by the human mind, and this sense that our actions are overseen and judged from beyond the natural world serves a definite evolutionary role. Belief in supernatural reward and punishment promotes social co-operation in a way nothing else can match. The belief that we live under some kind of supernatural guidance is not a relic of superstition that might some day be left behind but an evolutionary adaptation that goes with being human.
That's not true for everyone, of course (as it happens, the idea of a meaningless, indifferent universe suits me just fine) but as a general principle it is convincing. And that means that religion is not going away any time soon, or ever.
In the course of an article for Politix on godless conservatives written a couple of years back, I noted this:
Godless conservatives however are rarely anti-religious. They often appreciate religion as a force for social cohesion and as a link to a nation's past. They may push back hard against religious extremism, but, unlike today's "new atheists" they are most unlikely to be found railing against "sky fairies." Mankind has evolved in a way that makes it strongly disposed towards religious belief, and conservatism is based on recognizing human nature for what it is.
New Atheists (and plenty of old ones too) not so much…
Gray:
[The] "new atheists" are simple souls. In their view, which derives from rationalist philosophy and not from evolutionary theory, the human mind is a faculty that seeks an accurate representation of the world. This leaves them with something of a problem. Why are most human beings, everywhere and at all times, so wedded to some version of religion? It can only be that their minds have been deformed by malignant priests and devilish power elites. Atheists have always been drawn to demonology of this kind; otherwise, they cannot account for the ­persistence of the beliefs they denounce as poisonously irrational. The inveterate human inclination to religion is, in effect, the atheist problem of evil.

But what if belief in the supernatural is natural for human beings? For anyone who takes the idea of evolution seriously, religions are not intellectual errors, but ­adaptations to the experience of living in an uncertain and hazardous world. What is needed – and still largely lacking – is a perspective in which religion is understood as an inexhaustibly complex variety of beliefs and practices that have evolved to meet enduring human needs.
If the religious instinct is always likely to be with us, then, rather than railing against religion as a whole, it is much more useful to weigh different forms of religious expression against each other. All religions are not the same. Some faiths will be more benign than others. Equally there are different ways of following a faith. What a holy book says is one thing, how its followers behave can be quite another. Religions develop over time: what was, so to speak, writ in stone thousands of years ago, may now be read by many of the faithful as nothing more than folklore.
And man, of course, can shape the course of that development. If I had to design a religion, it would  be kindly, gently patriotic, theologically broad-minded, a quiet conservator of tradition and order with room (for those who want it) for a spot of the supernatural, but little time for superstition, the navel-gazing nonsense of mysticism or an over-insistence on dogma. In fact, it would look a lot like an idealized version of the Church of England of seventy or eighty years ago, a happy accident of history that is far from likely to be repeated.
But back to Gray:
Practically without exception, the atheist movements of the past few centuries testify to a demand for meaning that has led them to replicate many of the patterns of thinking distinctive of monotheism, and more particularly of Christianity.

For Christians, human history isn't an endless succession of cycles – as it was for the ancient Greek and Romans, for example – but a story, and one of a distinctive kind. Unlike practitioners of polytheism, who seek and find meaning in other ways, Christians have found sense in life through a mythical narrative in which humankind is struggling towards redemption. It is a myth that infuses the imagination of countless people who imagine they have left religion behind. The secular style of modern thinking is deceptive. Marxist and liberal ideas of "alienation" and "revolution", "the march of humanity" and "the progress of civilisation" are redemptive myths in disguise.

For some, atheism may be no more than a fundamental lack of interest in the concepts and practices of religion. But as an organised movement, atheism has always been a surrogate faith. Evangelical atheism is the faith that mass conversion to godlessness can transform the world. This is a fantasy. If the history of the past few centuries is any guide, a godless world would be as prone to savage conflicts as the world has always been. Still, the belief that without religion human life would be vastly improved sustains and consoles many a needy unbeliever – which confirms the essentially religious character of atheism as a movement.

Atheism need not be an evangelical cult. Here and there one finds thinkers who have truly left redemptive myths behind. The American journalist and iconoclast H L Mencken was a rambunctious atheist who delighted in lambasting religious believers; but he did so in a spirit of mockery, not out of any interest in converting them into unbelievers. Wisely, he did not care what others believed. Rather than lamenting the fact of incurable human irrationality, he preferred to laugh at the spectacle it presents. If monotheism was, for Mencken, an amusing exhibition of human folly, one suspects he would have found the new atheism just as entertaining.
Rightly so.
Read the whole thing.
Writing in the Guardian, British philosopher John Gray (an atheist himself) takes a look at the 'New Atheists' and isn't too impressed by what he sees.
His attack on the idea that leftists 'must' be on the left is well worth noting, and is a helpful reminder that 'secular humanism' is not only mush, but presumptuous mush:
[T]oday's most influential atheists would no more endorse racist biology than they would be seen following the guidance of an astrologer. But they have not renounced the conviction that human values must be based in science; now it is liberal values which receive that accolade. There are disputes, sometimes bitter, over how to define and interpret those values, but their supremacy is hardly ever questioned. For 21st century atheist missionaries, being liberal and scientific in outlook are one and the same.

It's a reassuringly simple equation. In fact there are no reliable connections – whether in logic or history – between atheism, science and liberal values.
Quite.
Atheism or agnosticism are simply the absence of belief in a deity. It has no automatic 'political' consequences. That absence can sometimes incline the unbeliever to support profound illiberal ideologies (as Gray points out), but it can also lead him or her to do the opposite. A lack of belief will, by definition, mean that unbelievers reject the purported rationale of policies rooted in religious faith, but not always their utility.
Gray:
There have been many modern atheisms, some of them more cogent and more intellectually liberating than the type that makes so much noise today. Campaigning atheism is a missionary enterprise, aiming to convert humankind to a particular version of unbelief; but not all atheists have been interested in propagating a new gospel, and some have been friendly to traditional faiths.

… Roughly speaking, an atheist is anyone who has no use for the concept of God – the idea of a divine mind, which has created humankind and embodies in a perfect form the values that human beings cherish and strive to realise. Many who are atheists in this sense (including myself) regard the evangelical atheism that has emerged over the past few decades with bemusement. Why make a fuss over an idea that has no sense for you? There are untold multitudes who have no interest in waging war on beliefs that mean nothing to them. Throughout history, many have been happy to live their lives without bothering about ultimate questions. This sort of atheism is one of the perennial responses to the experience of being human.
And one that I share: "Ultimate questions"? There are better things to think about.
On the other hand, it's important to remember that, to borrow from that old Trotsky line, you may not have much interest in the beliefs of others, but those who follow those beliefs may have an interest in you. To that extent, arguing back against the very root of those beliefs can make a great deal of sense. Critical biblical scholarship served a very useful purpose in the 19th century, so would subjecting the Koran to the same treatment in the 21st.
Gray attributes much of the rise of the New Atheists to 9/11, or rather its implications:
For secular liberals of [Sam Harris's] generation, the shock of the 11 September attacks went beyond the atrocious loss of life they entailed. The effect of the attacks was to place a question mark over the belief that their values were spreading – slowly, and at times fitfully, but in the long run irresistibly – throughout the world. As society became ever more reliant on science, they had assumed, religion would inexorably decline. No doubt the process would be bumpy, and pockets of irrationality would linger on the margins of modern life; but religion would dwindle away as a factor in human conflict. The road would be long and winding. But the grand march of secular reason would continue, with more and more societies joining the modern west in marginalising religion. Someday, religious belief would be no more important than personal hobbies or ethnic cuisines.

Today, it's clear that no grand march is under way.
Indeed.
Gray:
Though not all human beings may attach great importance to them, every society contains practices that are recognisably religious. Why should religion be universal in this way? For atheist missionaries this is a decidedly awkward question. Invariably they claim to be followers of Darwin. Yet they never ask what evolutionary function this species-wide phenomenon serves. There is an irresolvable contradiction between viewing religion naturalistically – as a human adaptation to living in the world – and condemning it as a tissue of error and illusion. What if the upshot of scientific inquiry is that a need for illusion is built into in the human mind? If religions are natural for humans and give value to their lives, why spend your life trying to persuade others to give them up?
Again, indeed.
As a species, we appear to have a strong tendency towards religious belief for, doubtless, excellent reasons. When conventional religious belief fades, it is simply replaced by something else (there's no better example of that than communism, essentially little more than a milleniallist cult, with a supernatural idea of history stepping in for more traditional gods). Raging against religious belief is as foolish (as I am not the first to observe) as raging against bipedalism. Secular sorts would do far better to focus their wrath on the more malign expressions of religious belief. All religions are not equal. An Anglican is not a Salafist.
As you'd expect, Gray also turns his question to the notion of morality without God:
The belief that the human species is a moral agent struggling to realise its inherent possibilities – the narrative of redemption that sustains secular humanists everywhere – is a hollowed-out version of a theistic myth. The idea that the human species is striving to achieve any purpose or goal – a universal state of freedom or justice, say – presupposes a pre-Darwinian, teleological way of thinking that has no place in science. Empirically speaking, there is no such collective human agent, only different human beings with conflicting goals and values. If you think of morality in scientific terms, as part of the behaviour of the human animal, you find that humans don't live according to iterations of a single universal code. Instead, they have fashioned many ways of life. A plurality of moralities is as natural for the human animal as the variety of languages.

At this point, the dread spectre of relativism tends to be raised. Doesn't talk of plural moralities mean there can be no truth in ethics? Well, anyone who wants their values secured by something beyond the capricious human world had better join an old-fashioned religion. If you set aside any view of humankind that is borrowed from monotheism, you have to deal with human beings as you find them, with their perpetually warring values.

This isn't the relativism celebrated by postmodernists, which holds that human values are merely cultural constructions. Humans are like other animals in having a definite nature, which shapes their experiences whether they like it or not. No one benefits from being tortured or persecuted on account of their religion or sexuality. Being chronically poor is rarely, if ever, a positive experience. Being at risk of violent death is bad for human beings whatever their culture. Such truisms could be multiplied. Universal human values can be understood as something like moral facts, marking out goods and evils that are generically human. Using these universal values, it may be possible to define a minimum standard of civilised life that every society should meet; but this minimum won't be the liberal values of the present time turned into universal principles.

Universal values don't add up to a universal morality. Such values are very often conflicting, and different societies resolve these conflicts in divergent ways….

The conviction that tyranny and persecution are aberrations in human affairs is at the heart of the liberal philosophy that prevails today. But this conviction is supported by faith more than evidence. Throughout history there have been large numbers who have been happy to relinquish their freedom as long as those they hate – gay people, Jews, immigrants and other minorities, for example – are deprived of freedom as well. Many have been ready to support tyranny and oppression. Billions of human beings have been hostile to liberal values, and there is no reason for thinking matters will be any different in future.
No there is not.
Food for thought. Read the whole thing.
It's worth spending some time on this devastating review by British philosopher John Gray of a new book by British philosopher A.C. Grayling. Neither man is a religious believer, but, after reading this review, it's difficult not to think that Gray is not the greater skeptic.
This passage is key:
Reading Grayling, it is hard to resist the impression that he believes Western civilization would be much improved if it did not include the Judeo-Christian inheritance. Absurd as it is, there is nothing new in such a claim. It is one of the most venerable clichés of Enlightenment thinking, and Ideas that Matter is a compendium of such dated prejudices. When Grayling condemns religion on the grounds that "a theory that explains everything, and can be falsified by nothing, is empty," he takes for granted that religions are primitive theories, now rendered obsolete by science. Such was the position of J. G. Frazer, the Victorian evangelist for positivism and author of the once-celebrated survey of myth, The Golden Bough (1890). In this view, religion is chiefly a product of intellectual error, and will fade away along with continuing scientific advance. But what if science were to show that religion serves needs that do not change with the growth of knowledge—the need for meaning, for example? In that case, it would not be religion and science that were at odds, but science and atheism. The upshot of scientific inquiry would be that religion is an ineradicable part of human life. Atheism—at least of the evangelical variety that Grayling promotes, which aims to convert humankind from religion—would be a supremely pointless exercise.
Indeed it would. At the same time, we should not overlook the irony implicit in the paradox that Gray seems to accept a little too casually. At its core "religion" is, more likely than not, based on nothing more than fantasy, but what if (as Gray plausibly suggests) that fantasy satisfies a basic need without which human society is unlikely to flourish? That awkward fact doesn't make religion any more true, it just makes it useful. So what is a secular sort to do? The usually helpful conservative approach—"nothing"—is not really enough. A better starting point is to recognize that some religions (or variants thereof) are more helpful—and more benign—than others.
And speaking of faiths that are far from benign, Gray (not for the first time) falls into the error of seeing the monstrous twentieth century totalitarianisms as bastard descendants of the Enlightenment. In reality, they are better seen as a reversion (explicitly so in the case of the Nazis) to the irrationality that will always be a part of the human condition, the reality of which merits a more serious response than denial or, for that matter, blind faith in Progress.
In any event, read the whole thing.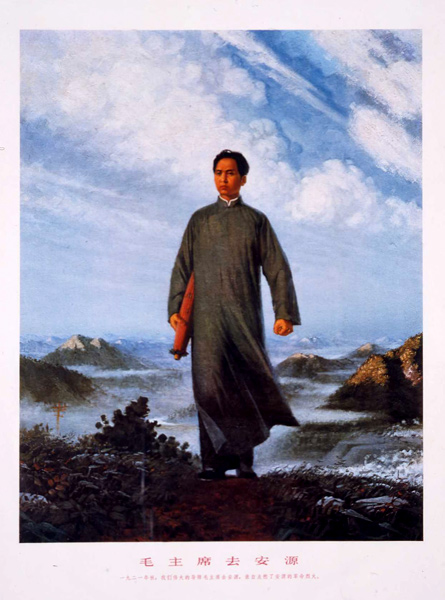 A.C. Grayling · John Gray · religion · useful whether or not true