Archive for October 2015
That's according to new research on display in the Journal for the Scientific Study of Religion:
This article reports the results of a nationwide audit study testing how Christian churches welcome potential newcomers to their churches as a function of newcomers' race and ethnicity. We sent email inquiries to 3,120 churches across the United States. The emails were ostensibly from someone moving to the area and looking for a new church to attend. That person's name was randomly varied to convey different racial and ethnic associations. In response to these inquiries, representatives from mainline Protestant churches—who generally embrace liberal, egalitarian attitudes toward race relations—actually demonstrated the most discriminatory behavior. They responded most frequently to emails with white-sounding names, somewhat less frequently to black- or Hispanic-sounding names, and much less to Asian-sounding names. They also sent shorter, less welcoming responses to nonwhite names. In contrast, evangelical Protestant and Catholic churches showed little variation across treatment groups in their responses.
Go figure.
Credit where's credit is due: I am not exactly a member of the Jerry Brown fan club, but the California Governor's decision to sign his state's cautiously drafted assisted suicide law (perhaps too cautiously: to take one example, those with Locked-In Syndrome might still be left trapped in their hell) deserves some praise, not just for his signature, but also the reasons he gave for it.
Gov. Jerry Brown of California gave a deeply personal explanation on Monday for his decision to sign legislation allowing terminally ill patients to obtain a lethal dose of painkillers from a doctor to hasten their death. When the law goes into effect next year, California will become the fifth state, after Oregon, Washington, Montana and Vermont, to enact and retain aid in dying or physician-assisted suicide laws. Many other states are considering similar laws; they ought to follow the example of these pioneers.

The California law has robust protections to protect patients from recklessly taking their own lives. Two different doctors must certify that the patient has six months or less to live before prescribing the drugs, patients must be able to swallow the medication themselves, and they must be of sound mind and not under coercion from their families. Hospitals and doctors can decline to participate.

Governor Brown, a Democrat, said that he had carefully read the opposition materials presented by a number of doctors, religious leaders and champions of disability rights and had considered religious arguments that shortening one's life is sinful. He also consulted with a Catholic bishop, two of his own doctors, and former classmates and friends, who took a variety of positions.

In the end, he reflected on what he would want in the face of his own death. "I do not know what I would do if I were dying in prolonged and excruciating pain," he wrote. "I am certain, however, that it would be a comfort to consider the options afforded by this bill. And I wouldn't deny that right to others."
Well done, Governor Brown. That said, it remains troubling to read that, even after the vote in the California legislature, Brown thought it worth considering 'religious arguments that shortening one's life is sinful'. Much as I might disagree with them, there are good practical arguments to be made against assisted suicide, but why, beyond a certain point in the democratic process in a nation with a constitution providing for the separation of church and state, religious arguments should be given special consideration escapes me.
There's been a lot of talk in recent years about how 'religious liberty' is under attack in the US, but that's a stance that can easily turn into an insistence on religious privilege, an altogether less praiseworthy objective. Under the circumstances, the determination of various churchmen to ensure that all Californians should be forced to submit to the prescriptions of a faith that they might not share was more than a touch ironic.
And for all the other arguments that those churchmen make, that infamous slippery slope and so on, in the end their objections are religious, based, at their core, on the argument that the rights of their God trump those of the profoundly sick, an argument made none the more palatable by attempts to elevate 'suffering' into some sort of sacrament.
I posted a bit about this phenomenon the other day, but clear signs of a morbid cult of suffering can be found in an article in America magazine by Jessica Keating, the program director of the Office of Human Dignity and Life Initiatives at the University of Notre Dame. It was written in response to the assisted suicide of Brittany Maynard in Oregon earlier this year.
Keating:
For those who cannot see beyond the material horizon of death, suffering that does not appear to have proximate material benefit is emptied of the possibility of meaning.
Well yes.
Indeed, euthanasia and physician-assisted suicide are as much about unseemliness and fear of suffering as they are about death.
Pretty much.
With the advance of utilitarian idealism and medical technology, it seems that nothing but a peaceful death will be acceptable, wherein peace is reduced to the absence of pain, emotional and physical suffering or the loss of cognitive and physical abilities.
To describe the wish for a peaceful death as 'utilitarian idealism' is telling. Fundamentalism is what it is.
There is another narrative that is routinely neglected or, worse, rejected out of hand, a narrative grounded in the logic of the Cross. This is a narrative in which suffering unto death can be penetrated and transfigured by the mystery of love—particularly in cases like Ms. Maynard's, when one is surrounded by loving family and friends. This transfiguration occurs in hidden intimacies. Choosing to die early forecloses such possibilities. Had she not taken her own life with the assistance of a physician, she, like many who suffer terminal illness, almost assuredly would have been stripped bare of her abilities, perhaps even her mind. Indeed, there was nothing material for her to gain in suffering, only loss. Almost assuredly there would have been no inspiring recovery story to tell at the end. Rather, Ms. Maynard might have become unproductive, unattractive, uncomfortable. She would just have been. But she would have been present in a web of relationships. Even had she fallen unconscious, she likely would have been read to, washed, dressed and kissed. She would have been gently caressed, held and wept over. She would simply have been loved to the end.
That was a destiny that was hers to choose or to reject. 'The logic of the Cross', backed by coercion, would have denied her that freedom, that autonomy, that dignity, that relief.
As I said, 'religious privilege'.
assisted suicide · Brittany Maynard · California · Jerry Brown · Religious Privilege · Suffering as a blessing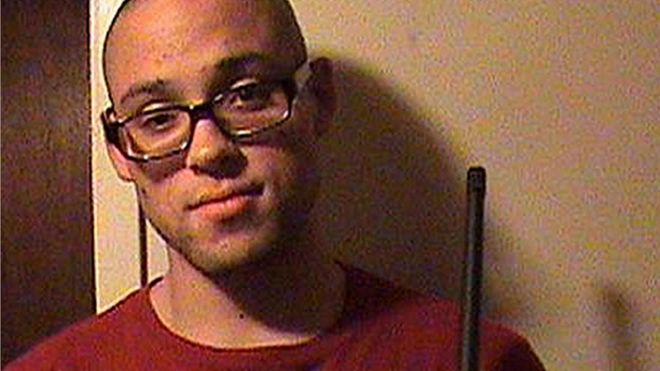 Oregon shooter Chris Mercer disliked organized religion and considered himself "conservative, republican." This according to the Daily Beast.
But then, an attempt to paint Mercer as a righty runs into problems. He also expressed sympathy for the race-card-playing black Roanoke shooter, e.g., and is himself half black (which sadly matters, even if that says more about the observers of these atrocities). On the other hand he appeared to be critical of the Black Lives Matter movement.
Though he loved guns, he also had beef with Christians, as those scary accounts of his actions Thursday inform us.
Secular rightists of course have a greater beef with Islam, not Christianity. (I'd say if forced to choose, but it's not even a contest.)
The New York Times reports that Mercer chimed in on the topic of "commercialism" in online forums, which would suggest a progressive's form of discontent – it's unlikely he was approvingly citing passages from Tyler Cowen's In Praise of Commercial Culture, afterall – but then that's not much to go on.
No, all we really know is that Mercer was in awe of the negative attention mass murder grabs; he liked guns; he had problems attracting women; and he might have had Asperger's. There's a manifesto apparently in police custody, but since Mercer opted to go the typewriter route ala 1965 and not post it on Medium, it's not publicly viewable.
I think the blogger formerly known as Half Sigma might have it right: Beta Male Rage.
chris mercer · conservative · guns · race · religion
Over on his blog, Sam Harris interviews Mark Riebling, the author of Church of Spies: The Pope's Secret War Against Hitler. The historical ground covered is interesting—how could it not be?—but these passages, in particular, caught my attention:
Conservative, even authoritarian, religious structures can prove extremely helpful against revolutionaries who want to impose a far more radical, utopian political religion. If Sunni Islam had a hierarchy, we would see many of its leaders resist ISIS more effectively. By comparison, you are seeing the Shia capable of counteraction, not just because they are anti-Sunni, but because they have a clerical hierarchy.

The Sunni conservatives will at some point have to either fight the revolutionaries or obey them. It was similar in Cambodia under Pol Pot—finally the old-line communists in that part of the world couldn't take it anymore. Likewise, who is now sending troops to prop up an authoritarian Assad to stop ISIS?

The former KGB agent Vladimir Putin. Which should remind us that in the former Soviet Union, glasnost and perestroika did not come from "the Russian people." They began within the most elite ranks of the Party—the KGB. I think the pope's secret war against Hitler should be grouped with this family of phenomena—authoritarian resistance to totalitarianism.
And this (my emphasis added):
For half a century, the Marxist myth of the New Man was fairly successful in supplanting the old stories—but the magic's gone out of that, too. So you have, unless you are mindful, a banalization of human experience. This banality is going to tempt some people to join ISIS for excitement, for re-enchantment, for remythification.

If you join ISIS, you have a story! Your life is numinous—it's as if you're living in the Iliad instead of, say, just playing soccer in the dust in a Bauhaus housing project in Basra. Or you're channeling the Teutonic Knights while you're horsewhipping Jews in 1930s Nuremburg—I think the personal hunger is the same.

As C.G. Jung said, you can chase out the devil, but he shows up somewhere else. Which is one reason why, when Jung was an agent for US intelligence in 1944, he urged propping up political Catholicism—in fact, through the Christian-socialist parties that came to dominate Cold War Europe, whose exiled leaders Pius sheltered in the Vatican. Jung was an atheist, but he preferred Christian socialism to the atheist communism he saw coming. He predicted that the freethinking atheist would fare better under the frowning brow of the Christian myth than under the trampling boot of the communist one.
Jung was a nut, but he had moments of clarity.
Link
http://www.samharris.org/blog/item/rethinking-hitlers-pope
enchantment · ISIS · Islam · Jung · Myth · Syria · totalitarianism · Vladimir Putin